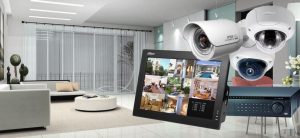 As technology keeps upgrading faster than we normally can keep up with, considering the integral elements for home alarm systems, video security, and security equipment can be a challenge. But even with the ongoing innovations in security systems, making the right decisions to protect your residence still comes down to understanding what will be most effective for you before you begin making purchases. Take advantage of our advice so that you can optimize your choices for making proper purchases for security systems.
To make home security work for you, take the technologically-advanced route and get home automation services established in your house. Imagine the comfort you will have knowing that you can control all the electrical functions of your home, room-to-room, from your iPhone or iPad? Home automation can go beyond alarm systems, and includes the ability to control your doors, your lighting, and even the temperature of your home all remotely. Not only can you keep your home safe with home automation by convincing intruders that someone is there while you are away – you can save considerable money by ensuring the heat is off when no one is at home.
Wired or Wireless
Your very first choice for assembling home intrusion systems is whether or not you want your protective equipment to be wireless or wired. A wired security system is typically more appropriate for a home that is still under construction or is being renovated. The reason is that there is quite a bit of drilling and rewiring that must take place in the walls.
On the other hand, wireless home security systems are the go-to choice if you have a preference for easy installation. Home alarms that are wireless can be mounted on a wall with sensors and detectors integrated with them. Going the wireless route prevents you from having to rewire the entire electrical system of your home.
Surveillance systems allow you to keep a watchful eye on the surroundings of your home, from the front yard, the backyard, as well as the numerous entry points that your house may have. But the interior of your home can also be surveyed with home security camera systems. Installing video security cameras inside your home can help protect your valuable possessions from guests or babysitters that may try to steal from you.
Door Sensors and Window Sensors
Intruders very often target windows and doors as points of entry. Home alarm systems lack effectiveness if they are without door sensors and window sensors. Don't forget to protect balconies and decks with these sensors.
Motion Sensors for Security
Adding motion sensors are critical additions to your home security equipment because they protect the inside of your home. They add an extra layer of protection aside from sensors for your windows and doors.
Central Monitoring Service
The monthly cost for using a central monitoring service gives you the opportunity to have authorities dispatched on your behalf. A two-way communication monitoring service allows the company to communicate with the residents before the dispatch in case of a disturbance or intrusion. Monitored alarm services could also potentially qualify you for home insurance discounts.
Audio Video & Security
13800 Coppermine Rd., Suite 392
Herndon VA 20171
Call: 703-858-5558
www.avandsecurity.com