Home Theaters
Cutting-edge Home Entertainment Design that Fits Your Lifestyle and Your Budget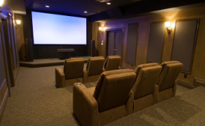 Have you ever dreamed about having a home theater or media room in your house? But, then thought it was just a luxury add-on exclusive to the very wealthy? With the advancements in technology and the decreasing costs of supplies, a dream home theater can be an economical add-on to your home. And, it doesn't have to be a dream anymore.
Imagine the enjoyment of having your own theater-like experience available anytime from the comfort of your home. With the touch of a button, any room can be transformed into a true entertainment experience. Our technicians can custom design a home theater system that won't break the bank. Whether you wish to create a new room for your system or take advantage of an existing space to transform, our team can create a masterpiece that will rival many movie theaters. What's best, you never have to leave your home. With expert consideration to the size of your space, we are experienced at choosing the right components, sound calibration and acoustic design. Our systems feature state-of the art, crystal clear BOSE sound and audio equipment. Ask us how BOSE can enhance your home theater!
Contact us today to learn more about our home theater systems that fit every budget
Please fill out the form below for an no obligation consultation.
Residential Solutions
,
Home Theaters
,
Whole House Music
,
Lighting Control
,
Internet & Network
,
Home Automation
,
Commercial Solutions
,
Video Conferencing
,
Digital Signage
,
Security System
,
CCTV
,
AT&T IP Phone System
,
Headend Systems
,
Control System
,
Government Solutions

Markets Served:
Broadcasting, Corporate Enterprise, Education, Entertainment, Houses of Worship, Hotels, Healthcare, Multi-Dwelling Units, Network Operating, Centers (NOC), Retail
Areas of Service:
Reston, Sterling, Chantilly, Reston, Arlington, North Arlington, Alexandria, Herndon, Mclean, Tyson's Corner, Northern VA, Fairfax, Fairfax City, Fairfax County, Old Town Fairfax VA , Old Town Alexandria, Oakton Virginia, Falls Church Virginia, Falls Church City Virginia, Old Town Alexandria Virginia and Great Falls Virginia, VA
Washington DC, Georgetown, Washington DC , Northern Virginia, DC Area, DC companies, DC corporations, Loudon County Virginia, Fairfax County Virginia, Prince William County Virginia, Potomac Maryland, MD and Suburban Maryland
Bethesda Maryland, Chevy Chase Maryland, Old Town Alexandria Area, Columbia Maryland, Montgomery County Maryland, Vienna, VA, Centreville, VA and Dulles Herndon, VA.