Builders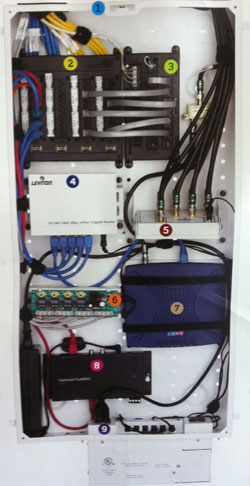 It's no secret that audio-video system installs turn out better and smoother when the design is completed before the house is built. That's why we love to cultivate relationships with area builders. By taking advantage of volume discounts, home owners can save money on a new security system or home theater. It also cuts down on drywall and electrical work when the system can be designed close to when the studs go up. The builder takes advantage by offering a new home feature that other competing builders or construction companies are not. And, it makes it easier and faster to rely on a specialist to get the job done for you.
Audio Video & Security will design system packages for your homes. Our packaged products & services can include audio, video, security, networking & internet, control vacuum systems and automation features, such as electronic and natural lighting control as well as energy management and HVAC control. We will do all the heavy lifting — design, installation and customer training. We can even provide customized datasheets to inform your clients on each system package, with your logo and community design.
Audio-Video & Security – The Builder's Advantage
We use top quality, name brand cable that meets all current and future networking specs.
We apply a color coded wiring system to help builders, electricians and other subcontractors quickly identify the type of wiring, the device it will control and in many cases, the room or area of the structure it is coming from.
We hate spaghetti, so we never serve to you! By running all wiring at 90 degree angles, we are able to bundle and secure it in logical groupings to the structure, so it is out of your way.
Difficult runs are no problem for Audio Video. We've run wiring in log homes, through solid rock and in extremely tight corridors.
Contact us today, so we can create a builder package for your next new home project.
Please fill out the form below for an no obligation consultation.
Residential Solutions
,
Home Theaters
,
Whole House Music
,
Lighting Control
,
Internet & Network
,
Home Automation
,
Commercial Solutions
,
Video Conferencing
,
Digital Signage
,
Security System
,
CCTV
,
AT&T IP Phone System
,
Headend Systems
,
Control System
,
Government Solutions

Markets Served:
Broadcasting, Corporate Enterprise, Education, Entertainment, Houses of Worship, Hotels, Healthcare, Multi-Dwelling Units, Network Operating, Centers (NOC), Retail
Areas of Service:
Reston, Sterling, Chantilly, Reston, Arlington, North Arlington, Alexandria, Herndon, Mclean, Tyson's Corner, Northern VA, Fairfax, Fairfax City, Fairfax County, Old Town Fairfax VA , Old Town Alexandria, Oakton Virginia, Falls Church Virginia, Falls Church City Virginia, Old Town Alexandria Virginia and Great Falls Virginia, VA
Washington DC, Georgetown, Washington DC , Northern Virginia, DC Area, DC companies, DC corporations, Loudon County Virginia, Fairfax County Virginia, Prince William County Virginia, Potomac Maryland, MD and Suburban Maryland
Bethesda Maryland, Chevy Chase Maryland, Old Town Alexandria Area, Columbia Maryland, Montgomery County Maryland, Vienna, VA, Centreville, VA and Dulles Herndon, VA.